/// Bassell Lab is reader-supported. When you buy through links on our site, we may earn an affiliate commission.
Learn more
Don't be shocked!
The U.S. Environmental Protection Agency used to reveal that indoor air was 2 to 5 times dirtier than typical outdoor air. Now, the figure might even be higher.
So, it is high time to get air purifier equipment in your house to leverage the air quality, especially when you have infants. Those little are susceptible to air pollution due to their underdeveloped immune system.
Fortunately, you do not need to go elsewhere because we bring the best air purifiers for baby and nursery rooms under your fingertips.
Check them all out!
Best Air Purifiers for Baby and Nursery: A List of 10
#1: RabbitAir SPA-780A – Best Overall
A snapshot of RabbitAir SPA-780A specifications:
Dimension

24 x 22.8 x 10 inches

Filtration system
6-stage process

: Pre-filter, Medium filter, BioGS HEPA filter, Customized filter, Activated carbon filter, and ion generator.

Power

47W

Coverage area

815 sq. ft

CADR ratings

Various CADR based on pollutants; from 166 to 200

ACH ratings

2x

Noise

20.8 to 45.6dB

Advanced features

4 options for customized filter available
If the baby room is enormous (because you want your baby to have a spacious area to enjoy), then you must choose an air purifier with a full coverage area like the Rabbit Air MinusA2 Ultra Quiet. Specifically, the maximum coverage room is up to 815 sq.ft.
Such a high capacity is thanks to the powerful features as follows:
6-stage purification process
There are six filters available. Even more, one of them is customizable for your requirements.
Accordingly, the first prefilter will physically cage large particles, allergens, and dust pet, etc. This washable prefilter is permanently reusable so that you will save money on the exchange. Secondly, the medium filter handles 1-micron airbornes such as pet dander or mold. Next, the BioGS HEPA filter is in place to capture most of the pollutants of 0.3 microns and above.
The purifier airflow, then, is through the customized filter, which is possibly one of Germ Defense, Pet Allergy, Toxin Absorber, and Odor Eliminator. The advanced activated carbon filter is absolutely included. With the high-grade granular charcoal layer, the filter can reduce pet odors and baby diaper smells. Finally, the ion generator helps fortify and freshen the inside air – though we mind not recommend it for the baby room.
Flexile customized filter
That the customized filter is hardly found in air purifiers makes this feature worth mentioning.
You can choose one of Germ Defense, Pet Allergy, Odor Remover, or Toxin Absorber to come with the package, depending on your household environment. For example, your pet often runs into the nursery room, then pick up the Pet Allergy filter to protect your kids.
The machine sneaks almost no sound at the min setting. The noise level is only 25.6 dB, on average. Thus, they will not cause any discomfort to your babies. 
Interestingly enough, this air purifier is designed to easily mount on the wall to keep the machine beyond the children's reach for safety.
In drawback, there is a lack of advanced Wi-Fi connection, meaning you have to come into the nursery room several times to check and adjust the settings. Check on your babies, by the time.
Pros:
Large coverage capacity

The complete purification process – air is always clean

Good to no sound

Customizable filter

Adaptive and safe installation
Cons:
High price

Not rich in advanced features as expectation
All in all, the machine has all the essential elements to fit well in a large nursery room. It will protect your infants all the time.
#2: Airthereal Air Purifier with True HEPA – Best Compact for Budget
Airthereal Air Purifier ADH80 with True HEPA comes with:
Dimension

7.1 x 7.1 x 11.7 inches

Filtration system

3-stage process

: Pre-filter, True HEPA filter, and Activated carbon filter.

Power

20W

Coverage area

160 sq.ft

CADR ratings

47 CFM (80 m³/h)

ACH ratings

2x

Noise

22-42 dB

Advanced features

Color indicator, 12-volt DC car adapter, and

Smart Air

Sensor
Come at a pocket-friendly price; the Airthereal Air Purifier ADH80 still covers all basic needs for a baby air purifier.
With a prefilter, a TRUE HEPA filter, as well as the activated carbon filter, the machine ensures a quality air filtration system and pure enrichment. The air purifier can remove large objects to 0.3-micro allergens and fungi particles. And the activated carbon filter will work as an excellent odor reducing layer.
Portable and beneficial design
For a small baby room, you do not need to break a bank for an advanced device like the RabbitAir SPA-780A. The Airthereal ADH80 is enough to filter out air pollutants within 160 sq.ft.
What's more, this purifier features a tubular construction for 360° air intake to take advantage of the fan power. On top of that, you can easily take the device in the car when you take your babies outsides.
Additional smart sensor and color indicator
We do not expect these two features in this low-priced air purifier. But there are!
The Smart Sensor allows the machine to adjust its fan according to the air quality index flexibly. At the lowest operation, the Airthereal ADH80 will turn on the sleep mode to save energy and guarantee a quiet environment for your baby. The energy power is only 20W on average.
The LED light, on the other hand, reveal the status of filter and whether you need replacement filters.
The size is also a disadvantage. The fan speed is not powerful enough if the air quality in your area is too bad.
Pros:
Incredibly cheap, coming to think of the features

Reliable True HEPA filtration process

Portable design and power settings for rooms and in cars

Additional Smart Sensor and Color Indicator
Cons:
Weak fan speed

Limited coverage area
In general, if the air quality index in your nearby area is acceptable and there are no pets or smokers in your house, then this portable Airthereal Air Purifier ADH80 is far from enough for your little sweeties.
#3: Fellowes AeraMax Baby DB5 – Best for Allergies and Asthma
Another portable alternative for the Airthereal Air Purifier ADH80 is the Fellowes AeraMax Baby DB5. Here comes the quick summary.
Dimension

8.5 x 7.2 x 27.2 inches

Filtration system

4-stage process

: HEPA filter, Activated carbon filter, AeraSafe Antimicrobial treatment, and PlasmaTrue technology

Power

37W to 51W

Coverage area

100 – 200 sq.ft

CADR ratings

65 Dust; 68 Smoke; and 75 Pollen (CFM)

ACH ratings

3x

Noise

35 dB at minimum

Advanced features

Color indicator, 12-volt DC car adapter, and Smart Sensor
As the name suggests, this is a nursery air purifier, built with your babies in mind, using features:
4-stage purification process
Besides the HEPA filter and activated carbon filter as the two purifiers above, the AeraMax Baby DB5 adopts the AeraSafe Antimicrobial treatment and PlasmaTrue technology.
The earlier is to protect the surface of HEPA filters from the odor clog caused by mildew, bacteria, and fungi. That way, it lengthens the lifetime of the HEPA filter, while relieving the work of the activated carbon filter.
The latter technology produces negative ionizers. Although it significantly fastens the purification process, you had better turn it off to protect your vulnerable lung system of your kids.
Friendly for pet allergy issues
This is among the best air purifiers for allergies on the market.
The machine complies with both CARB verification and the AAFA requirements. Thus, you can stay assured that your babies are protected against any asthma triggers.
The CADR ratings vary for different pollutants: 65 CFM Dust; 68 CFM Smoke; and 75 CFM Pollen.
Like the Airthereal air purifier, the AeraSmart also changes the fan settings automatically if they find the air environment is already purified or too polluted. Even more, you can switch to the Aera+ Mode to fasten the filtration process.
What we do not like about the AeraMax machine is too noisy operation. The minimum noise level is only 35 dB. Although it is still acceptable, you should remember that babies are more sensitive than adults.
Besides, the ionizing function can produce by-product ozone that harms the kids' lungs.
Pros:
Super small and lightweight design to place everywhere

4-stage purification with the protective AeraSafe Antimicrobial

Certified with allergies and asthma prevention requirements

 Advanced AeraSmart sensor and Aera+ Mode

Decent pricing
Cons:
Possibly harmful ionizer function

A bit loud for infants
In a balance of functionalities and price, the Fellowes AeraMax Baby DB5 is the right choice, especially when your babies are sensitive to dust pollen and pet dust. Otherwise, you can go for the upgraded AeraMax Baby DB55.
#4: LEVOIT Smart Wi-Fi – Best Air Purifier In Terms of Adds-on
Levoit air purifier PUR131S is the next air purifier for the baby we want to introduce to you.
Dimension

21.6 x 17.5 x 10 inches

Filtration system

3-stage process

: Prefilter, HEPA filter, and Activated carbon filter

Power

40W

Coverage area

360 sq.ft

CADR ratings

135+ CFM

ACH ratings

4. 5x

Noise

27 dB at minimum

Advanced features

Alexa connection, remote control, schedule and timer, etc.
Features of the Levoit air purifier PUR131S sell itself:
3-stage filtration system
This is a standard HEPA air purifier that can handle almost all air pollutants in the nursery room. Even more, the Honeycomb carbon filter is proved to increase the purification process by 20% in efficiency and 30% in speed.
The air change rate is up to 4.5 times per hour, meaning the airflow is clean almost around-the-clock.
Certified with various strict requirements
When it comes to filtration devices, the brand Levoit hardly disappoints, we promise. The filtration capacity is tested with Energy Star, FCC certification, CARB requirements, and more.
Packed with bells and whistles
Most impressively, this Levoit air purifier goes with a list of exciting features for those familiar with advanced technology.
For instance, you can control the settings at your beloved baby room right from your office via the phone app and Wi-Fi connection available. You can even get the machines connected with Alexa and Google Assistant so that you can adjust the settings via Voice. Exciting!
The schedule and timer are also helpful. You can set the mode and the period you want to change the speed – Sleep mode at night, for example.
You might also check the filter life right on the VeSync app. No need to uninstall the filters to check.
However, there are still rooms to improve. The adds-on below are both good and bad at some points. Specifically, some complain that there are two many features to remember and operate. Not to mention, the machine is a bit power-consuming.
Pros:
The improved HEPA filter and carbon filter

Reliable certifications and compliances

Added bells and whistles to control smartly

Slightly quiet device
Cons:
Bulky construction

A complicated operation for non-savvy users

Power-consuming and easily heated motor
Even when you find the adds-on of the Levoit air purifier abundant, the machine is still worth buying because of the high-quality filtration and decent coverage area. The price is also surprisingly affordable.
#5: Coway AP-1512HH Mighty Air Purifier – Best Air Purifier for Smoke
At a glance, the Coway AP1512HH adds a sleek to any room, including the nursery room. When getting inside into the specifications, we find this air purifier even more well-worth.
Dimension

9.6 x 16.8 x 18.3 inches

Filtration system

4-stage process

: Prefilter, HEPA filter, Activated carbon filter, Vital ionizer

Power

5W to 77W

Coverage area

361 sq.ft

CADR ratings

246 Dust; 240 Smoke; and 233 Pollen (CFM)

ACH ratings

4x

Noise

24.4 to 53.8 dB

Advanced features

Wi-Fi

Enabled air

smart, air quality indicator, filter replacement indicator, etc.
We will suggest this air purifier for homes that have smokers because of its high CADR ratings for smoke, dust, and pollen. The machine is at moderate pricing and with the taste of high-end consumers.
Design is not the very first factor to consider when it comes to air purifiers for babies. However, who refuses to enhance the lovely beauty of your kids' room?
Adopting the iconic design of other Coway devices, the AP1512HH features less white and pinker. Yet, the overall design is still beautiful and modern.
The order of filters is changed a bit. The airflow will first go through the prefilter and the activated filter before reaching the HEPA filter. Finally, the ionizer generator will improve air quality. However, you had better turn the final filter off to avoid the ozone by-product.
Smart air quality indicator
Like the Levoit air purifier, the Coway is available to connect with AI Alexa and app. But on top of that, the Smart Sensor is what to praise.
You can instantly check the indoor air quality by colorful LEDs on the control panel. Blue is good. Purple is an alarm, and the Red means getting your baby out of the room and leave the air purifier to do its work.
The Coway AP1512HH will activate the Auto Mode and change the fan speed to eliminate harmful particles. Even more, the Eco Mode is enabled automatically when the air is already clean and remains passive for half an hour to cut down on the electricity bill.
On the other hand, the overall Energy Star rating is not very ideal when the power can be as low as 5W, then go up to 78W.
Pros:
Innovative and compact construction

High-quality filtration for smoke and dangerous pollutants

Helpful smart sensor and eco mode

User-friendly operation
Cons:
Fluctuate energy star rating

A bit expensive
Instead of thinking about the bit high price, take the high CADR ratings and enhanced filtration process in your account and make a wise choice.
#6: BONECO H300 – Best Hybrid Humidifier & Purifier
The hybrid air purifier – humidifier for baby, will become a popular newcomer soon because of its incredible benefits: protect the respiratory system and skin at the same time.
Take the BONECO H300, for example.
Dimension

14 x 12 x 21 inches

Filtration system

3-stage process

: Prefilter, HEPA filter, and Boneco Air Washer system.

Power

3.6W to 9.6W

Coverage area

540 sq.ft

CADR ratings

53 CFM

ACH ratings

2x to 4x

Noise

28-51 dB

Advanced features

Integrated humidifier sensor, aroma compartment, mobile app, and so on.
Unlike the traditional air purifier, BONECO H300 is designed with some additional features to work as a hybrid machine.
True HEPA filter with Air Washer system
3-stage cleaning process of this purifier is a bit different. There are only Pre-filter and the core HEPA filter to help remove nearly all particles from large to small sizes. Nonetheless, the manufacturer replaces the activated carbon filter with the air washer system. It means the machine uses water to purify the air against dust and odors.
Still, it is better to update the filtration system with an activated carbon filter.
For those who are wondering whether the hybrid air purifier uses much energy, we confirm that it is not the case of the BONECO H300. In contrast, this air purifier is a real energy savior. The power is just ranging from 3.6W to 9.6W.
Restful cleaning and maintenance
With a design for a top-to-bottom design, not only does the air washer work smoothly, but the machine is also easy to clean. Simply put, you can de-assemble all parts and wash them in the washing machine or dishwasher.
The BONECO air purifier is not cheap so that you can expect exciting adds-on such as the Auto Shut-off function, child-safety lock, essential fragrance container, and even the mobile app compatibility.
In drawbacks, we want to complain about the running sound. It is a little noisier than some other choices on the list. Moreover, the CADR is lower than our expectations at such a high pricing category.
Pros:
The combined functionality of air purifier and humidifier

Energy-saving machine

Effortless cleaning

User-friendly operation with smart features
Cons:
Lack of activated carbon filter

A bit loud

Low CADR ratings
In fact, the device is somewhat more expensive than its real value. However, if your baby is suffering from dry and irritated skin, a hybrid air purifier like BONECO H300 is still recommended.
#7: Coway AIRMEGA 300S – The Best for Large Nursery Room
Get straight to the point, the Coway AIRMEGA 300S is very expensive, but it makes sense because of its high purification capacity.
Take a look at the overview specifications, and you will see.
Dimension

13.6 x 13.6 x 21.2 inches

Filtration system

3-stage process:

Prefilter, HEPA filter and Max2 filter (HEPA filer combined with Activated carbon filter)

Power

57W

Coverage area

1256

sq.ft

CADR ratings

300 Dust; 310 Smoke; and 340 Pollen (CFM)

ACH ratings

2x to 4x

Noise

22-52 dB

Advanced features

Smart sensor, air quality indicator rings, Eco mode, Auto mode, wifi-connectivity, etc.
Premium air purifiers are packed with many features, and the AIRMEGA 300S is not the exception.
Some might mistake that the AIRRMEGA 300S is a 2-stage purifier as there are only prefilter and Max2 filters available.
In fact, the other filer is the combination of the carbon filter and TRUE HEPA filter. Thus, it can filter out 99 percent of harmful particles and annoying fumes such as CH3CHO and NH3.
Truth be told, the air purifier can even work as a house-ware true HEPA allergen remover, thanks to its high CADR and ACH ratings and large covering area. Accordingly, the machine will clean 1256 sq.ft every 15 minutes.
Smart features coming along
There are a lot of progressive functionalities that you can explore gradually.
For example, look at the colored rings on the cover. They indicate the indoor air quality by running the Smart sensor per minute and showing LED rings.
Once you enable the Auto Mode, the air cleaner will adjust the speed settings to the detected air quality index. Meanwhile, the Eco Mode is also available so that the AIRMEDA 300S will turn off itself whenever the air inside the room remains clean for 10 minutes. This saves energy and protects the filters from an overuse.
Plus, you can control the air from another room, using the IOCare app connected with Wi-Fi.
The price, as we mention, is the one that makes you think twice. Moreover, the cost of filter replacement is often high as the purifier has to work for a large area at a time.
Pros:
High-quality filters system

Large coverage capacity

Very high CADR and flexible ACH ratings

Various running modes

Along with additional smart features
Cons:
Extremely expensive

Laggy mobile app
If you have a spacious baby room, it is worth purchasing the high-quality Coway AIRMEGA 300S to ensure the purification requirements.
#8: HoneyWell HPA300 – Best Allergy Remover for Medium Rooms
It is a big shortage if we do not mention the HoneyWell HPA 300 on the list. This is a medium-range machine with decent features.
Take a look at the overview specifications and you will see.
Dimension

9.2 x 20 x 22.2 inches

Filtration system

3-stage process:

Prefilter (Activated carbon filter in it) and HEPA filter

Power

40W – 130W

Coverage area

465

sq.ft

CADR ratings

320 Dust; 300 Smoke; and 300 Pollen (CFM)

ACH ratings

5x

Noise

Not mentioned, but loud

Advanced features

Timer and Turbo mode
Now, let's get insight into the features:
Standard 3-stage purification:
Although the Honeywell True HEPA allergen remover comes with 2 filters only, it still guarantees the purification enrichment. AHAM Verifide is passed!
Accordingly, the A+ prefilter has included the activated carbon filter in it to trap both large particles, odors, and VOCs at a time. This filter can last for 3 months before the replacement.
In addition, the R-certified True HEPA filter is tested to capture nearly 100% of tiny allergens in the air.
High CADR rating for medium rooms
The CADR is 300 on average, which is equivalent to some advanced options here like Dyson Pure Hot + Cool HP04 and IQAir HealthPro Plus. And the ACH rating is 5x for 465 sq.ft areas.
The Turbo mode is one of 3 fan speeds available. It will increase the fan speed to the most in case of extreme allergies density. For that reason, the HoneyWell True HEPA is one of the best air purifiers for pet allergies.
However, you need to trade-off the noise level in this mode. We wish the manufacturer can add another Silent mode for the machine to ensure the sleep of the baby at night.
Pros:
Compact and quality construction

Improved filtration process

High CADR, ACH ratings, and ample coverage area

Suitable as a pet allergen remover
Cons:
Noisy Turbo mode

Lack of smart sensor function
The noise level is the biggest problem. However, if your kids are familiar with white noise, the HoneyWell HPA300 will not cause significant annoyance. Moreover, the price is reasonably affordable, thinking of its high-quality performance.
#9: Dyson Pure Hot + Cool HP04 – Best Versatile Air Purifier
Interestingly enough, this Dyson Pure Hot + Cool HP04 portable air purifier works versatile as a "triple function" air purifier with hot and cool airflow.
Dimension

9.8 x 8.1 x 30.1 inches

Filtration system

2-stage process

: HEPA filter and Activated carbon filter

Power

36W to 44W at cooling mode and 1575W when heating

Coverage area

290 sq.ft

CADR ratings

Not mentioned

ACH ratings

Not mentioned

Noise

40-57 dB

Advanced features

Smart sensor, phone app, and various modes
Highlighted features of the Dyson HP04 include:
Our first impression on this air purifier is the compact oval design with a round AMP. It will not take much room in the nursery place. The airflow will go bottom-to-top, meaning the air intakes via perforated holes and get out under the amp.
The weight is only 8.6 lbs, so you can bring it around your home, from the living room to the baby room, and even take it out in your car.
At first, the smart sensors will help detect the density of pollutants within the room and diagnose the air quality index.
Then, the activated carbon filters will be in use to capture gases and odors. Meanwhile, the sealed True HEPA filter will capture ultrafine airborne pollutants and make the baby room pure again. Moreover, the 350-degree oscillation and Air Multiplier technology allow distributing the air equally to every corner of the room.
Furthermore, you can choose heat airflow in winter and cooling airflow in summer flexibly with visual settings.
Besides the Heat Mode and Cool Mode, you can also turn on some pre-set modes such as Diffused to change the airflow to the back or Night-Time mode to guarantee the silent settings and energy saving, or Standby mode when you are out.
Just for your note, the machine consumes a lot of energy at the HEAT mode. Moreover, the fan power is somewhat less potent than some other Pure Cool counterparts so that the airflow can be slow.
Pros:
Heat and cooling airflow according to the weather

Innovative design which is compact and portable

Rich in mode options to suit your requirement

Adds-on like sensors and Wi-Fi connectivity
Cons:
Energy-consuming at the Heat mode

Low fan speed

Expensive
With all the temperature management functions, this air purifier is recommended for winter as it still consumes less power than the console heating. However, coming to think of a standard air purifier, the Dyson HP04 is still more pricey than usual.
#10: IQAir HealthPro Plus Air Purifier – Best Premium Machine
If you concern about the quality purification rather than the price, then IQAir HealthPro Plus Air Purifier is a smart choice. The powerful features make it the best air purifier for mold and one of the best air purifiers for pet allergies, as well.
Dimension

16 x 15 x 28 inches

Filtration system

4-stage process

: PreMax filter, Granulated Activated Carbon filter, Pelletized chemisorption, and Hyper HEPA filter

Power

70W

Coverage area

1,125 sq.ft

CADR ratings

300 CFM

ACH ratings

5x

Noise

22-57 dB

Advanced features

Timer, LED filter replacement, etc.
As a high-end category, the IQAir HealthPro Plus Air Purifier is promised to provide superb air purification. And it does!
An Unmatched air filtration system
Each of IQAir HealthPro Plus filters is improved in power and function.
For example, the PreMax filter works even more efficiently in removing most of the large objects in the airflow. Next, the Granulated carbon filter can handle even toxic VOCs, smoke, and others. Afterward, the pelletized chemisorption will subsequently destroy chemicals like formaldehyde – which is commonly found in nursery rooms. Finally, the HyperHEPA filter completes the process by getting rid of viruses, ultra-fine, and combustion particles.
The ACH rating is 5x, meaning your indoor air will be entirely purified every 12 minutes even the room is as large as 1125 sq.ft.
The average CADR rating is around 300 CFM (even 776 CFM within a standard indoor environment.) Hence, the purifier can deliver by 40% more clean air than usual.
Acceptable power consumption
20W to 135W is the range of power consumption when you run the IQAir HealthPro Plus. This is definitely not the lowest energy consumption. However, with such a premium air purifier, it is still efficient.
All are good, except for the fact that the machine does not support the latest additional functions like other high-end options, such as the smart sensor.
Pros:
Superb powerful filtration

Large coverage areas and high ratings

Impressively quiet at such high capacity

Efficient energy consumption

5-year warranty
Cons:
Extremely pricey

Lack of smart sensor and indoor air indicator
All in all, if you have a large baby room or multiple connected rooms, it is worth purchasing a robust and durable air cleaner machine as the IQAir HealthPro Plus Air Purifier.
Are Air Purifiers Safe for Babies?
Your babies need safe air to live well and sleep soundly
Clean air is of the essence for all of us to live healthily. When it comes to children, especially the newborns, high-quality air is even more critical.
For your information, the small lung capacity of the babies means they need inhale more air per minute compared to adults. Just imagine your kids are accidentally exposed to harmful bacteria, pollutants, airborne allergens, and pet hair in the air every day, how dangerous it could be?
Inhaling air pollution, babies are at risk of death
Sad to say, there is a link between infant mortality and indoor air pollution, studies confirmed!
In their early life, infants have a lower lung function than 8-year-old kids and above, making them more vulnerable to substances in the air. A short-term inhale of dust mites, pollen mold, or other things might trigger allergies like coughing or sneezing. However, your kids might also end up suffering from long-term chronic respiratory issues and asthma attacks.
Even worse, constant exposure to extreme toxins discharged during household activities such as volatile organic compounds (VOCs) or radioactive gases can cause deaths of babies.
Unhappily, baby nurseries are commonly found as the highest air-polluted area in many houses. New parents tend to be too excited to decorate the children's room with lovely painted walls, flooring, modern rugs, toys, and added furniture, which are possible causes of homes air pollution.
Benefits of an air purifier for baby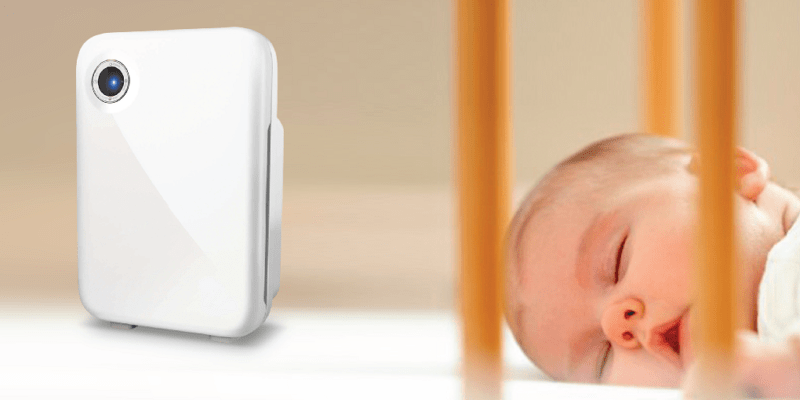 A baby air purifier truly helps!
#1. Purifying the indoor air
The very first advantage of the nursery air purifier – like other types of purifiers, is to clean the air from ultra-fine airborne particles.
Simply put, the HEPA filter built in almost all baby air purification devices will pull the indoor air into dense and let them through filtration layers to trap the 99.97% of harmful particles. Thus, your babies will not inhale them in the air.
#2. Improving the kids' immune system
It makes sense that clean air helps enhance the immune system since your children are less likely to suffer from viral infections, say, the common flu and allergies.
#3. Preventing pneumonia and cardiovascular issues
For those who might not know, the toxic bacteria in the polluted air results in pneumonia for kids. This disease can be mild or fatal, and more common for 5-year children and below. A True HEPA air purifier is not the complete treatment for pneumonia. Nonetheless, it does help to filter out the bacterial and make the air more comfortable for kids to breath and get rest.
In terms of the cardiovascular diseases, they are heart-related. What they have nothing to do with babies and indoor air pollution?
Then, it is the polluted air that irritates the babies' lungs before it spreads to the heart blood vessels. If there is any smoker in your house, then your kids might be under persistent exposure to the harmful smoke into the lungs and their hearts. Finally, it results in the dangerous cardiovascular issues.
That time, the air purifiers for your baby will trap the possibly harmful pollutants right from the start.
#4. Increasing the baby's sleep quality
Infants spend lots of their time to sleep. Thus, having a purifier for baby's nursery will maintain a favorable and healthy environment for kids fall deeper into sleep and get well all the time.
Moreover, your kids feel more comfortable and more natural to breathe in and out. It means they are free from sleep disorders – for example, sleep apnea and snoring.
Then, after all, air purifier is good for babies?
Beneficial as the air purifiers that we mentioned above, we must confirm that not all types of air purifiers are made with infants in mind. In other words, if you make a wrong choice, the air purifier can do more harm than good.
Safe air purifiers for nurseries
If you can see from the list of best air purifiers for baby and nursery, all of chosen devices are featuring a true HEPA filter, as well as the advanced activated carbon filter for a better purification effect.
The first filtration technology is well-known for the capacity of capturing airborne and chemicals down to 0.3 microns. In addition, the HEPA air purification tools run extremely silent to guarantee your baby's peaceful sleep. And the carbon filter is in place to get rid of unpleasant odors and the toxic VOCs.
Unsafe air purifiers for nurseries
For the best air purifiers for baby and nursery room, NO EVER go for ozone-generator air purifiers and ionic air purifiers.
Take notes of some warmings:
The ozone-generated devices

discharge the by-product ozone when running. Down to earth, ozone possibly causes serious respiratory diseases from coughing, chest pain, breath shortness to

asthma and allergy

, as well as respiratory infections. At all costs, you should stay away from purifiers, even those that say, "This machine complies with the federal limit of ozone emission."

The iconic air purifiers

can also release ozone besides adding the ionizing particles and fastening the air purification process. You can still use the ionic purifiers; we do not recommend them, though, if you switch the ionizer functionality when your babies are around.
Buying Guide to Spend Your Money Right
What make the best air purifiers for baby and nursery?
True HEPA air purifiers
We have mentioned earlier, but better safe than sorry, you must check it twice: "Choose ones with the True HEPA filter and activated carbon filter."
Then, try to figure out what types of air pollutants that those purifier air machines can handle.
Normally, the HEPA purifier filter can suck over 99.7% of allergens, very fine dust mites, pet dander, and particles of 0.3 microns in diameter into their filters. Also, you should always get away from the machines with a "HEPA-like" label, although they are crazily cheap and performing adequately. In fact, those air purifiers have not meet the true HEPA filter requirements yet.
The filtration system
A standard HEPA air purifier often feature 3-filter purification process with the use of a prefilter, a HEPA filter, and an activated carbon filter.
At first, the pre-filter is in place to physically trap large particles such as pet hair. By preventing debris from flowing into the two other filters, it will significantly lengthen the lifespan of those filters and save money on maintenance and replacement. Ideally, the prefilter should be washable or easy to clean with the vacuum at least monthly.
Then, the primary HEPA filter will catch smaller particles as above.
Next, the purified air is further passing through the activated carbon filter. As the name suggests, the filter develops carbon chemically from activated charcoal to remove even smaller airbornes and especially odors, such as nasty smells and smoke. We recommend the carbon filter if there are smokers or pets in your house.
Some modern purifier machines now equipped with ultraviolet (U.V.) light and ionizers. However, their performance is sometime not as good as the advertisement and even cause harms to your little babies. In specific, they produce an amount of ozone, which might be in accordance with legal limit but cause lung irritates for kids.
Not to mention, the UVC light must be ultra-powerful to kill mold spores and bacteria. In other words, it can bundle your electricity bill quickly. Thus, make sure these filters, if any, are possibly switched off when necessary.
Certification of energy star
The next factor to consider is the Energy Star label. Normally, the 40-percent energy star certificate is good enough. Nevertheless, if the cost is not your very concern, then pick the air purifiers that can run around-the-clock for your baby's sake.
The AHAM Verified seal is also an indicator of air purifiers for baby and nursery. This test is not required, but those with AHAM verification are proved to come with high clean air deliver rates (CADRs.) This figure shows the effectiveness of the air purifier in specific areas.
Normally, the higher is better. You can refer to the recommended CADR ratings per size.
Area

(sq ft)

100

200

300

400

500

600

CADR ratings

60

130

195

260

325

390
Source: The Environmental Protection Agency (EPA)
Please note some baby air purifiers have only one CADR rating. Meanwhile, some manufactures even display various CADR ratings for specific pollutants, such as dust, pollen, large particles, etc.
Moreover, the CADR ratings are often tested in the laboratory environment. When bringing the machine home, indoor air quality is somewhat different.
Noise
Our pain threshold is about 120 dB, and the hearing-loss point is 85 dB. However, babies are even more sensitive and can withdraw the lower level of noise. Moreover, they easily wake up in the middle of the sleep because of a tiny sound. That of the air purifiers, for example. As parents, you should be clearly aware of this and only choose the quiet machines for the nursery room.
The good news is that an air purifier with true HEPA filters is supposed to be quiet. However, you should still find ways to minimize the sound as low as possible.
Ideally, go for

ultra quiet HEPA air purifier

machines.

Check the ratings on the noise at different speed settings.

Run the purifier on the high speeds when the babies are not in the room and reduce the

fan speed

when they are nearby, especially at night.

Turn on the

sleep mode

, if there is any.
Size and shape of the machines
The size usually goes hand in hand with the CADR ratings. In other words, small or big air purifiers depend on the room area.
In terms of shape, an air purifier must be stable enough when being placed on any surface. Babies are so curious that they might play with the machines and get hurt. Plus, you should:
Make sure the air purifier is out of the children's reach.

Mount it on the wall, if possible.

Or, set the machine on a flat surface so that it does not fall over suddenly.

Put the purifier next to the pail of diaper to get rid of disgusting odors.
Additional features
Clean air is essential. However, humidity is also important to smoothen the respiratory system and protect the baby's skin.
For that reason, the air purifier should also be a built-in humidifier or dehumidifier. Otherwise, you can opt-in the water-based purifiers or those with the oil essential tray to freshen the air up at the same time.
As can be seen, some among the best air purifiers for baby and nursery has a mobile app available. You can change the settings across the room, if necessary.
The machine will adjust the speed settings automatically based on the air quality in the room to optimize the purification performance and save money.
The indicator light for filter replacement
Every filter, whether washable and non-washable, must come to an end of service one day. Thus, it is recommended to change the filters when it comes to the time to replace the clogged filters.
Costs
Finally, choose the air purifiers under your budget and take the expense of replacement in mind.
A rule of thumb, the prefilters should be replaced once every month. Besides, the mechanical filters can last for 6 or 12 months, and the activated carbon filters require a sooner replacement, about every 3 months.
Conclusion
All in all, RabbitAir SPA-780A is the winners for the best air purifiers for baby and nursery. This machine remains a balance between the air purification capacity and the price. Even better, it can cover a huge area without providing any irritating sound.
In case your baby room is not too spacious, you can refer to our buying guide to pick up another choice on the list. All are good and carefully-picked by our experts. Moreover, consumers also search for Vornadobaby Purio Nursery Purio air purifier and Pure Enrichment Purezone 3-in-1. Thus, keep those machines in mind, too.